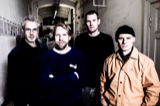 THE SHREDZ.

Das Solo-Projekt von Eric Schaefer debutierte 2013 mit dem durch Wagner inspirierten Album "Who Is Afraid Of Richard W." (ACT), das dessen Musik ...
(mehr)
Eric Schaefer's solo project debuted in 2013 by the Wagner inspired album "Who Is Afraid Of Richard W." (ACT), taking up his music in various ways and...
(more)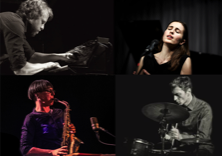 KÜHNE_EBERHARD_MEITZ_DIMITRIADIS.


Diese Band ist so neu, dass sie noch keinen Namen hat — jedoch sind die Namen von Volkers Mitstreiter*innen mehr als aussagekräftig ….
(mehr)
The title may almost read like a one-off, but it's actually a new group - so new that it doesn't have a proper name yet. Given the musical personalities of the four musicians, however
…
(more)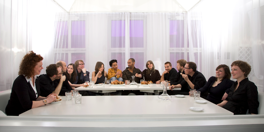 SONAR KOLLEKTIV ORCHESTER.

Die All-Star-Band des Sonar Kollektivs wird 2022 nach langer Pause reaktiviert - Anlass ist kein geringerer als das 25-jährige Jubiläum des Berliner Labels…
(mehr)
On the occasion of the 25-year anniversary of the Berlin based label, their all star band will be reactivated in 2022 after a long hiatus ...
(more)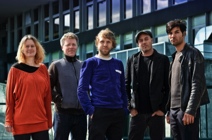 PROJEKT SCHWEDT.

Es geht um freie Improvisation und Sounds, ohne atonalen oder sonstigen Dogmen verpflichtet zu sein; es werden aber auch mal Instrumente präpariert oder elektronische Effekte bemüht....
(mehr)

Just like the "other" Project
Rhinow,
this band is named after a city's name of the street in which there's a venue where their debut performance took
...
(more)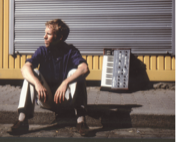 MEITZ / CLUB PROJECT.

Volkers Solo-Projekt, das vor fast 20 Jahren seinen Anfang nahm und meist irgendwo zwischen
Jazz / NuJazz / JazzNotJazz
unterwegs war...
(mehr)
Volker's own thing is based in the field of jazz / nujazz / jazznotjazz ;-), with injections of club-related styles like broken beats, house, drum'n'bass...
(more)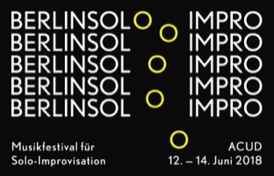 BERLIN SOLO IMPRO.

Volker konzipiert und kuratiert seit 2018 Berlin's erstes Musikfestival für Solo-Improvisation - und entdeckte damit gleichsam künstlerische Gestaltungsmöglichkeit auf der Meta-Ebene …
(mehr)
Since 2018, Volker coceptualises and curates Berlin's first music festival for solo improvisation, hence exploring artistic design possibilities on the meta level…
(more)